30-Day Money-Back Guarantee
Safe & Secure Online Payment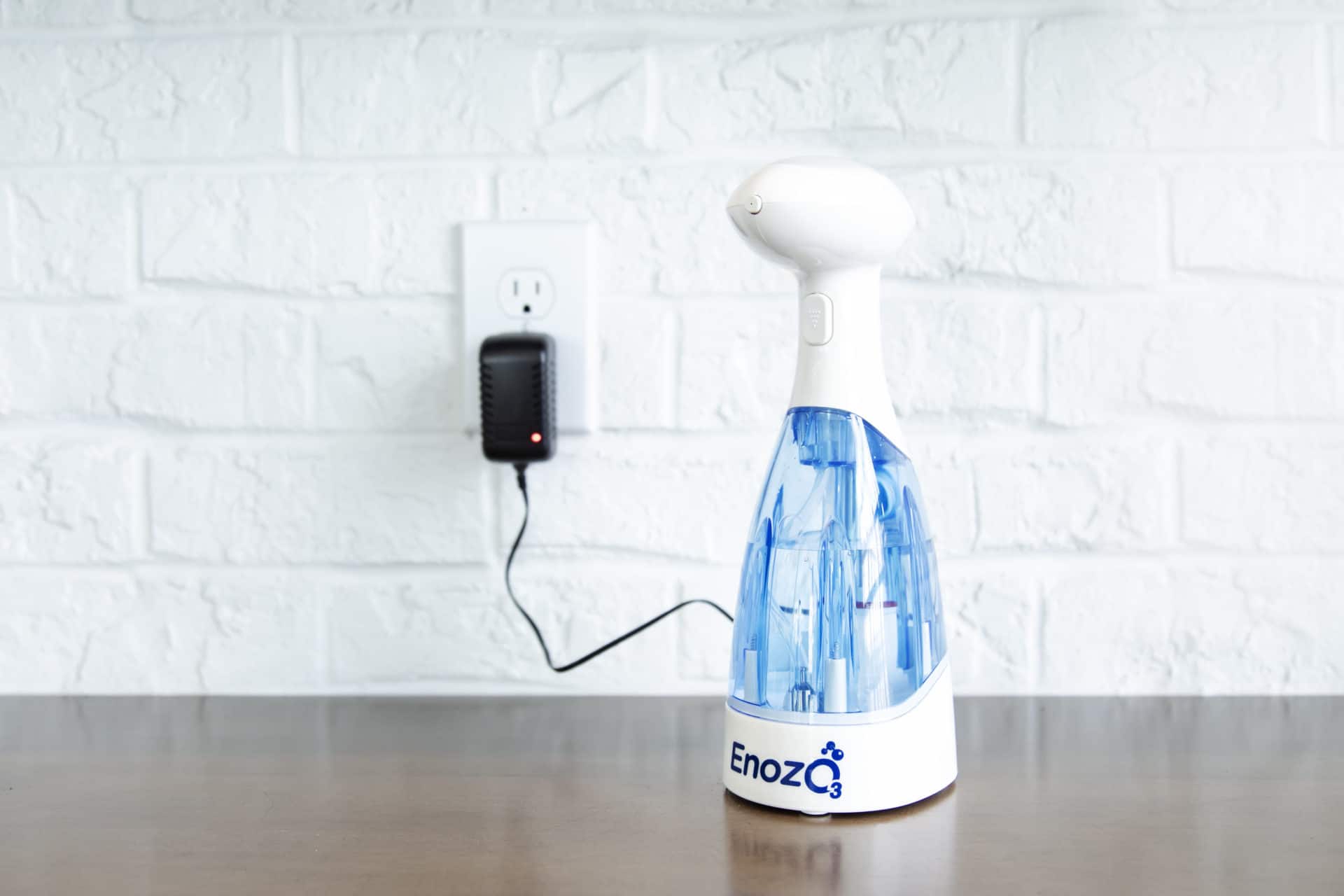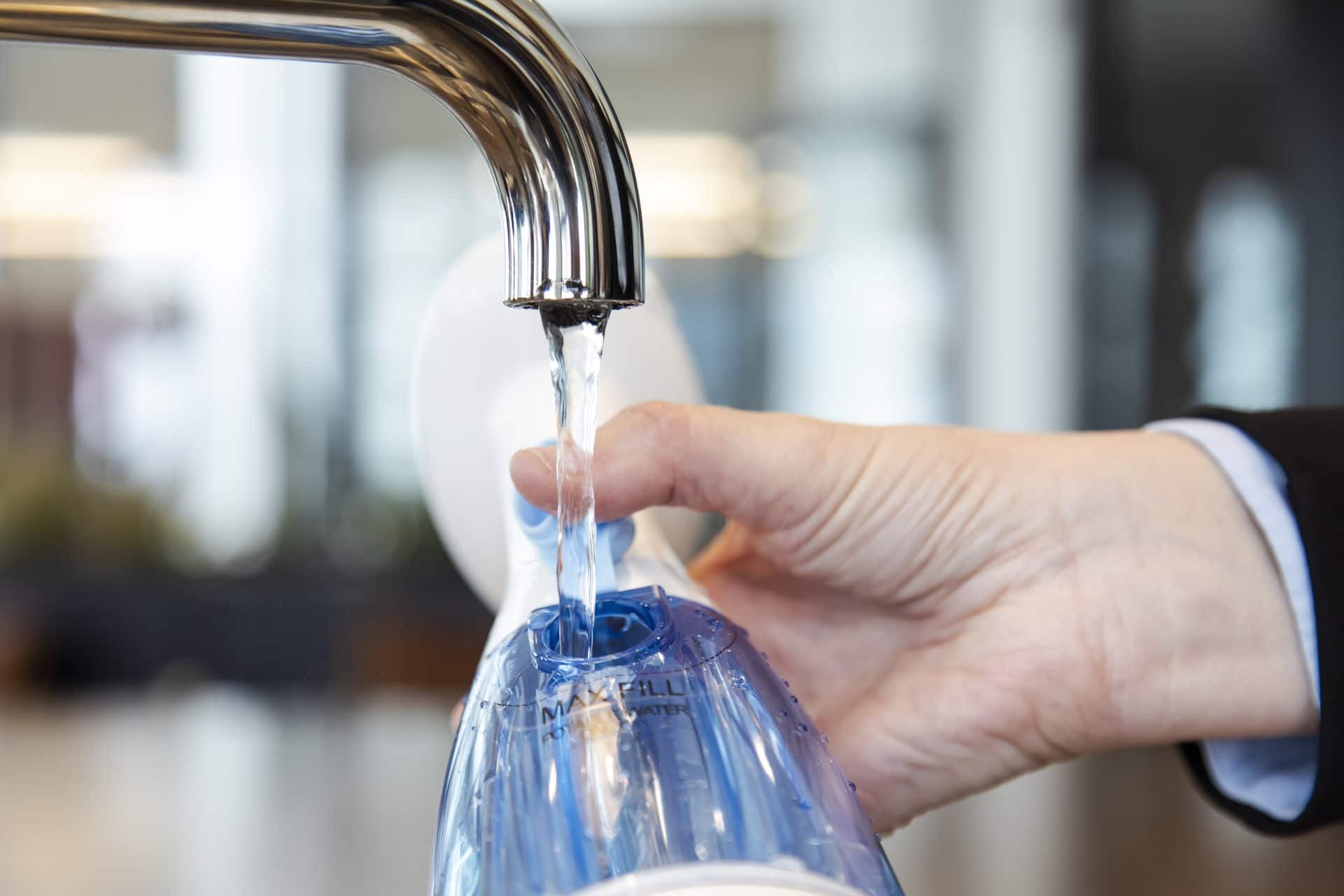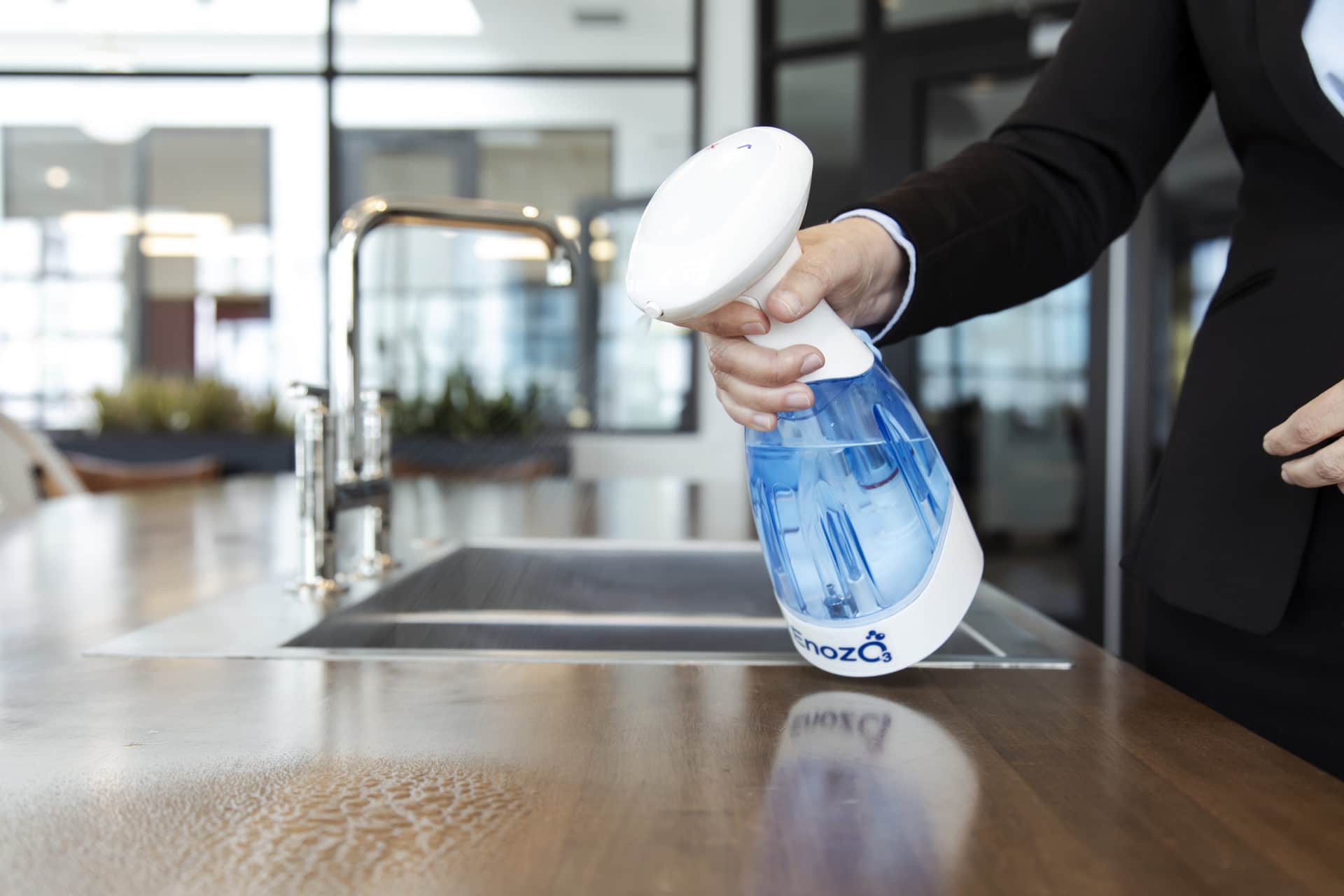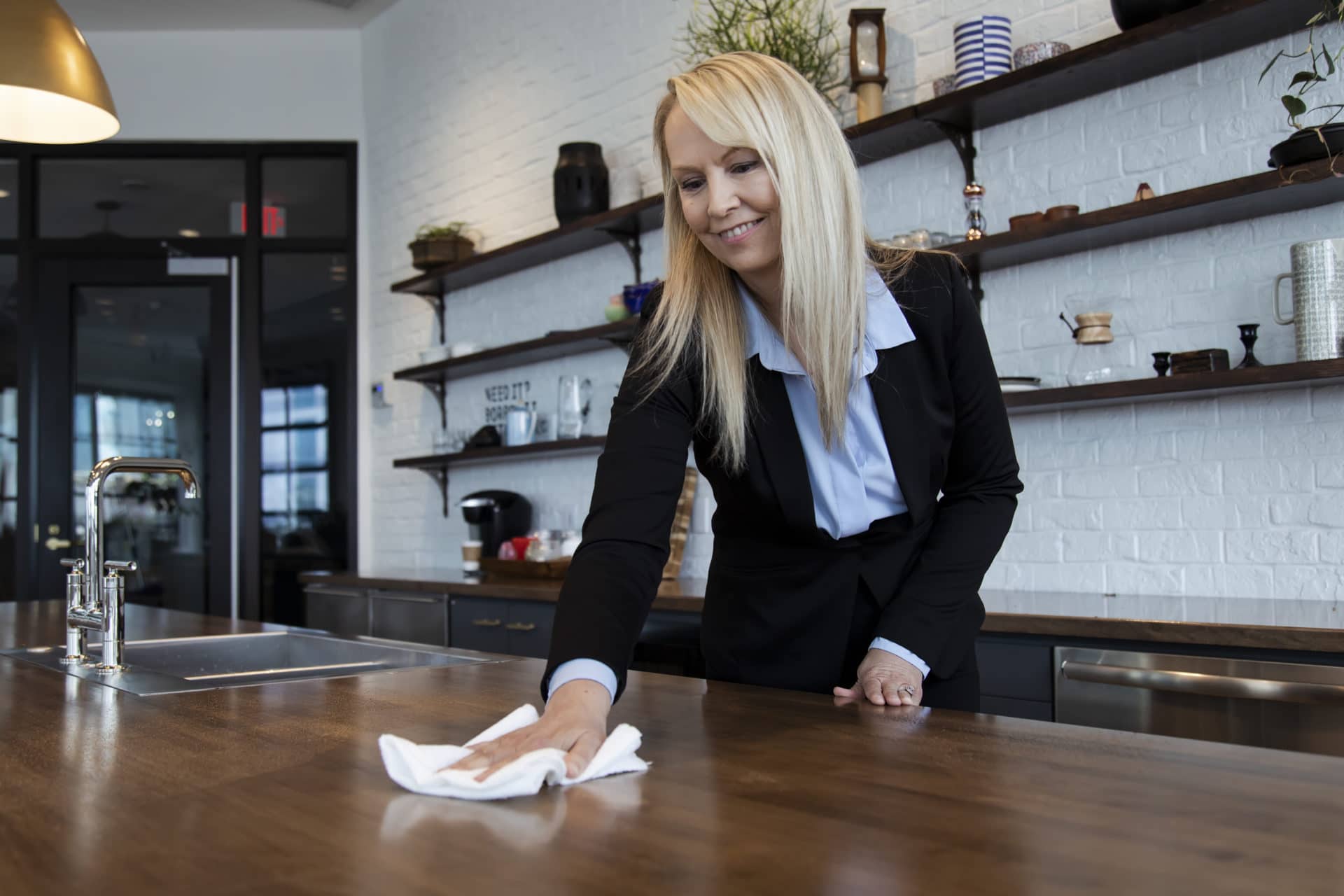 | | |
| --- | --- |
| Weight | 2 lbs |
| Dimensions | 4 x 4 x 10 in |
| Water Capacity | 14 oz |
| Refills | 5,000 refills until diamond recharge is needed |
| Bottle Battery | Lithium Ion 7.4V 1.8 Amp-hr |
| Charger | 100-240 AC 50/60 Hz |
Warranty: 30 day money back guarantee plus 2 year limited warranty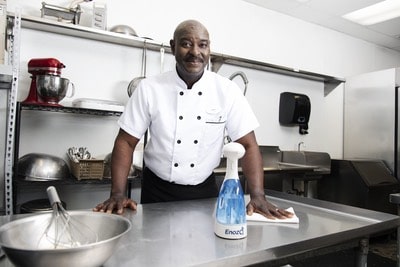 Sanitize
Aqueous ozone kills 99.9% of some of the most harmful pathogens when used as directed. It has been approved as Generally Recognized as Safe (GRAS) by the FDA so you can sanitize confidently.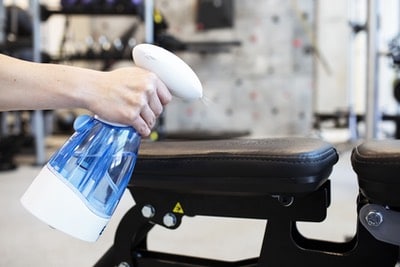 Deodorize
Attack unwanted odors with the use of aqueous ozone without the need for added fragrances or dyes.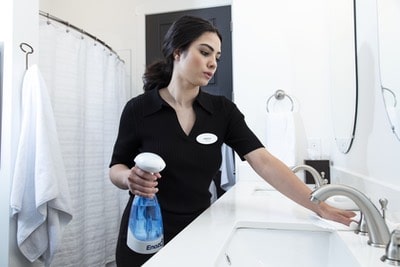 CLEAN
Enozo's on-demand cleaning power eliminates the need for added synthetic chemicals and leaves behind zero residue.
WE'RE REVOLUTIONIZING HOW THE WORLD CLEANS
No Training Neccessary
Cleaning shouldn't be complicated. EnozoPRO eliminates the need for complex cleaning processes providing users with an on-the-go, on-demand cleaning solution. Simplify your cleaning process with EnozoPRO.
Sustainability In Action
Using the EnozoPRO refillable, on-demand portable ozone bottle that helps reduce your waste production and ultimately your carbon footprint. Save money and help save the world!
Multi-Purpose Sanitizer
Eliminate the need for multiple additional sanitizers. With EnozoPRO, kill 99.9% of many harmful microbes in just 30 seconds.
No Chemical Additives
Aqueous ozone is a non-synthetic cleaner that doesn't need any added fragrances or dyes to sanitize and deodorize. Clean with confidence…and no added chemicals.
A Safer Alternative
Reduce skin, breathing and eye hazards on-the-job with EnozoPRO. Using aqueous ozone compared to other chemical cleaners can help reduce workplace illness and allergies.
Top-Notch Engineering
Enozo engineers are constantly testing ways to better improve how the world cleans. The EnozoPRO bottle has proven durability having been drop tested from 5 feet at all angles onto concrete. All this in addition to a battery compartment doesn't leak. 
A MULTI-PURPOSE CLEANER IN ONE, RECHARGABLE BOTTLE…JUST ADD WATER!

Kitchens
Eliminate the risk of foodborne illness by killing 99.9% of some of the most harmful bacteria like Salmonella.

Hospitality
From the lobby to the check-in desk to guest rooms, EnozoPRO is perfect. Being both portable and an on demand ozone bottle, it's perfect to take from room-to-room.

Schools & Nurseries
LIttle hands spread big germs. Protect your classroom and play areas without the risk of added chemicals.
Gyms & Spas
Whether it's wiping down the free weights or making sure all spa surfaces are spotless, EnozoPRO works on multiple different hard surfaces.

Animal Care
If you're a pet-friendly workplace, EnozoPRO is perfect for sanitizing and deodorizing to eliminate urine, feces and vomit. It's also safe to have around furry friends.

Public Venues
Use one bottle throughout your office, airport, or entertainment venue. Clean everything from elevator buttons and glass surfaces to stainless steel appliances all at the pull of a trigger.
Powered By Nature
Aqueous ozone (AO) is a product of nature that is produced when regular water and air become electrically charged. This electrical charge creates one of the most powerful oxidizers on the planet that revolutionizes the way people clean, deodorize and sanitize spaces. 
When produced by either nature or an onsite generation device, like EnozoPRO, AO is a less toxic alternative to commercial cleaners. This means fewer hazards for your workers, clients and facility while protecting your indoor air quality.
Commercial Sanitizing Power
Aqueous ozone produced by the EnozoPRO portable, on-demand spray bottle can sanitize faster than many other sanitizers when used as directed.
Learn More
*Limit 4 units per person. If you are interested in purchasing at volume, please contact info@enozo.com for a distributor near you. The EnozoPRO spray bottle does not ship outside of the USA. Please contact info@enozo.com for a distributor near you. Enozo does not ship to freight forwarders. Orders placed with a freight forwarding address will be cancelled.