Ditch the toxic chemicals for nature's favorite sanitizer.
ADEPT: ACTIVE DIAMOND ELECTROLYTIC PROCESS TECHNOLOGY
We've replicated natural ozone generation in the palm of your hand using only tap water and a solid diamond plate.
With ADEPT, water from the reservoir is sent into a chamber where it passes through a solid diamond plate and encounters a direct electrical current. Here a chemical reaction occurs that splits the strong bond that holds the two atoms of ordinary oxygen together and creates free oxygen atoms. These free atoms immediately seek to bond with oxygen molecules, which then forms ozone. The bottle then sprays the ozonated water through the nozzle.
Commercial Sanitizing Power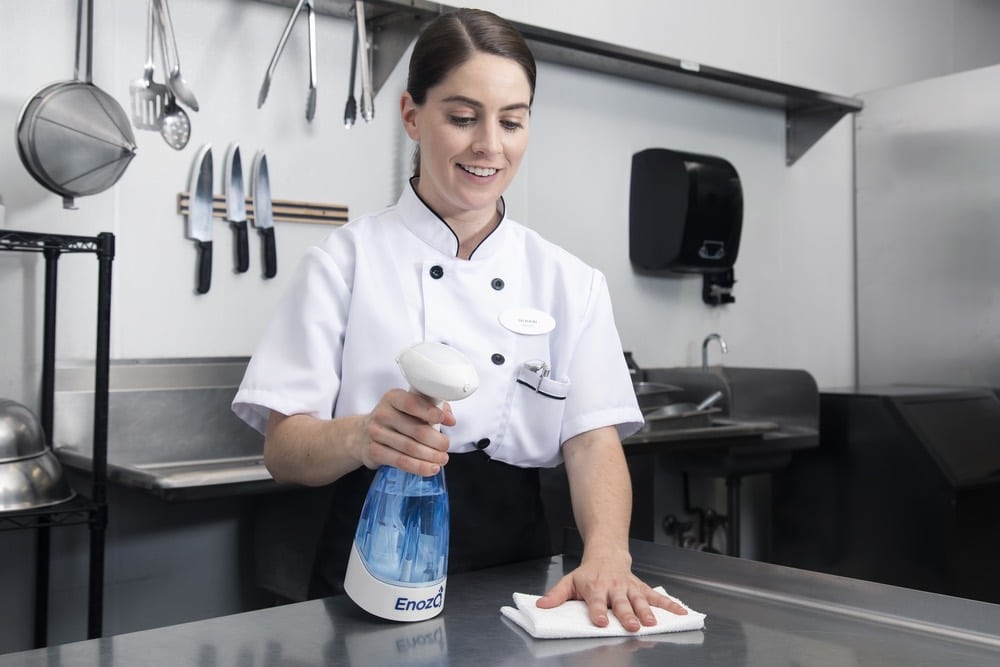 Ozone has been used worldwide for over a century. For all its inherent power, it is perfectly safe when used in proper, low concentrations.
The aqueous ozone produced by Enozo is Green Seal® Certified, generally regarded as safe (GRAS) by the FDA and is part of the EPA Establishment.
[vc_row type="in_container" full_screen_row_position="middle" scene_position="center" text_color="dark" text_align="left" disable_element="yes" overlay_strength="0.3″ shape_divider_position="bottom" bg_image_animation="none" shape_type=""][vc_column column_padding="no-extra-padding" column_padding_position="all" background_color_opacity="1″ background_hover_color_opacity="1″ column_link_target="_self" column_shadow="none" column_border_radius="none" width="1/4″ tablet_width_inherit="default" tablet_text_alignment="default" phone_text_alignment="default" column_border_width="none" column_border_style="solid" bg_image_animation="none"][image_with_animation image_url="6786″ alignment="center" animation="Fade In" border_radius="none" box_shadow="none" max_width="50%"][/vc_column][vc_column column_padding="no-extra-padding" column_padding_position="all" background_color_opacity="1″ background_hover_color_opacity="1″ column_link_target="_self" column_shadow="none" column_border_radius="none" width="3/4″ tablet_width_inherit="default" tablet_text_alignment="default" phone_text_alignment="default" column_border_width="none" column_border_style="solid" bg_image_animation="none"][image_with_animation image_url="6526″ alignment="center" animation="Fade In" border_radius="none" box_shadow="none" max_width="100%"][/vc_column][/vc_row][vc_row type="in_container" full_screen_row_position="middle" scene_position="center" text_color="dark" text_align="left" disable_element="yes" overlay_strength="0.3″ shape_divider_position="bottom" bg_image_animation="none" shape_type=""][vc_column column_padding="no-extra-padding" column_padding_position="left-right" background_color_opacity="1″ background_hover_color_opacity="1″ column_link_target="_self" column_shadow="none" column_border_radius="none" width="1/4″ tablet_width_inherit="default" tablet_text_alignment="default" phone_text_alignment="default" column_border_width="none" column_border_style="solid" bg_image_animation="none"][image_with_animation image_url="6786″ alignment="center" animation="Fade In" border_radius="none" box_shadow="none" max_width="50%"][/vc_column][vc_column column_padding="no-extra-padding" column_padding_position="all" background_color_opacity="1″ background_hover_color_opacity="1″ column_link_target="_self" column_shadow="none" column_border_radius="none" width="3/4″ tablet_width_inherit="default" tablet_text_alignment="default" phone_text_alignment="default" column_border_width="none" column_border_style="solid" bg_image_animation="none"][image_with_animation image_url="6526″ alignment="center" animation="Fade In" border_radius="none" box_shadow="none" max_width="100%"][/vc_column][/vc_row][vc_row type="in_container" full_screen_row_position="middle" scene_position="center" text_color="dark" text_align="left" overlay_strength="0.3″ shape_divider_position="bottom" bg_image_animation="none"][vc_column column_padding="no-extra-padding" column_padding_position="all" background_color_opacity="1″ background_hover_color_opacity="1″ column_link_target="_self" column_shadow="none" column_border_radius="none" width="1/1″ tablet_width_inherit="default" tablet_text_alignment="default" phone_text_alignment="default" column_border_width="none" column_border_style="solid" bg_image_animation="none"][vc_column_text]
User Manuals
[/vc_column_text][vc_row_inner column_margin="default" text_align="left"][vc_column_inner column_padding="no-extra-padding" column_padding_position="all" centered_text="true" background_color_opacity="1″ background_hover_color_opacity="1″ column_shadow="none" column_border_radius="none" column_link_target="_self" width="1/1″ tablet_width_inherit="default" column_border_width="none" column_border_style="solid" bg_image_animation="none"][vc_column_text]
Enozo Pro
Download User Manuals:[/vc_column_text][nectar_btn size="large" open_new_tab="true" button_style="regular" button_color_2="Accent-Color" icon_family="none" url="https://enozo.com/wp-content/uploads/2020/06/SB-100-CA1-Manual-Englishv2.pdf" text="English" margin_top="6″ margin_right="6″ margin_bottom="6″ margin_left="6″][nectar_btn size="large" open_new_tab="true" button_style="regular" button_color_2="Accent-Color" icon_family="none" url="https://enozo.com/wp-content/uploads/2020/06/SB-100-CA1-Manual-French.pdf" text="French" margin_top="6″ margin_right="6″ margin_bottom="6″ margin_left="6″][/vc_column_inner][/vc_row_inner][/vc_column][/vc_row][vc_row type="full_width_background" full_screen_row_position="middle" bg_color="#00529b" scene_position="center" text_color="dark" text_align="left" top_padding="5%" bottom_padding="7%" overlay_strength="0.3″ shape_divider_position="bottom" bg_image_animation="none" shape_type=""][vc_column column_padding="no-extra-padding" column_padding_position="all" background_color_opacity="1″ background_hover_color_opacity="1″ column_link_target="_self" column_shadow="none" column_border_radius="none" width="1/2″ tablet_width_inherit="default" tablet_text_alignment="default" phone_text_alignment="default" column_border_width="none" column_border_style="solid" bg_image_animation="none"][image_with_animation image_url="7612″ alignment="center" animation="Fade In" border_radius="none" box_shadow="none" max_width="100%"][/vc_column][vc_column column_padding="no-extra-padding" column_padding_position="all" background_color_opacity="1″ background_hover_color_opacity="1″ font_color="#ffffff" column_link_target="_self" column_shadow="none" column_border_radius="none" width="1/2″ tablet_width_inherit="default" tablet_text_alignment="default" phone_text_alignment="default" column_border_width="none" column_border_style="solid" bg_image_animation="none"][vc_column_text]
[/vc_column_text][/vc_column][/vc_row][vc_row type="full_width_background" full_screen_row_position="middle" scene_position="center" text_color="dark" text_align="center" top_padding="5%" bottom_padding="2%" overlay_strength="0.3″ shape_divider_position="bottom" bg_image_animation="none" shape_type=""][vc_column column_padding="no-extra-padding" column_padding_position="all" background_color_opacity="1″ background_hover_color_opacity="1″ column_link_target="_self" column_shadow="none" column_border_radius="none" width="1/1″ tablet_width_inherit="default" tablet_text_alignment="default" phone_text_alignment="default" column_border_width="none" column_border_style="solid" bg_image_animation="none"][vc_column_text]
Simple To Use
[/vc_column_text][/vc_column][/vc_row][vc_row type="full_width_background" full_screen_row_position="middle" scene_position="center" text_color="dark" text_align="center" bottom_padding="3%" overlay_strength="0.3″ shape_divider_position="bottom" bg_image_animation="none" shape_type=""][vc_column column_padding="padding-2-percent" column_padding_position="top" background_color="#00529b" background_color_opacity="1″ background_hover_color_opacity="1″ font_color="#ffffff" column_link_target="_self" column_shadow="none" column_border_radius="none" width="1/4″ tablet_width_inherit="default" tablet_text_alignment="default" phone_text_alignment="default" column_border_width="none" column_border_style="solid" bg_image_animation="none"][vc_column_text]
Charge
[/vc_column_text][image_with_animation image_url="7175″ alignment="center" animation="Fade In" border_radius="none" box_shadow="none" max_width="100%"][/vc_column][vc_column column_padding="padding-2-percent" column_padding_position="top" background_color="#00529b" background_color_opacity="1″ background_hover_color_opacity="1″ column_link_target="_self" column_shadow="none" column_border_radius="none" width="1/4″ tablet_width_inherit="default" tablet_text_alignment="default" phone_text_alignment="default" column_border_width="none" column_border_style="solid" bg_image_animation="none"][vc_column_text]
Fill
[/vc_column_text][image_with_animation image_url="7174″ alignment="center" animation="Fade In" border_radius="none" box_shadow="none" max_width="100%"][/vc_column][vc_column column_padding="padding-2-percent" column_padding_position="top" background_color="#00529b" background_color_opacity="1″ background_hover_color_opacity="1″ column_link_target="_self" column_shadow="none" column_border_radius="none" width="1/4″ tablet_width_inherit="default" tablet_text_alignment="default" phone_text_alignment="default" column_border_width="none" column_border_style="solid" bg_image_animation="none"][vc_column_text]
Spray
[/vc_column_text][image_with_animation image_url="7173″ alignment="center" animation="Fade In" border_radius="none" box_shadow="none" max_width="100%"][/vc_column][vc_column column_padding="padding-2-percent" column_padding_position="top" background_color="#00529b" background_color_opacity="1″ background_hover_color_opacity="1″ column_link_target="_self" column_shadow="none" column_border_radius="none" width="1/4″ tablet_width_inherit="default" tablet_text_alignment="default" phone_text_alignment="default" column_border_width="none" column_border_style="solid" bg_image_animation="none"][vc_column_text]
Wipe
[/vc_column_text][image_with_animation image_url="7172″ alignment="center" animation="Fade In" border_radius="none" box_shadow="none" max_width="100%"][/vc_column][/vc_row][vc_row type="full_width_background" full_screen_row_position="middle" scene_position="center" text_color="dark" text_align="center" bottom_padding="6%" overlay_strength="0.3″ shape_divider_position="bottom" bg_image_animation="none" shape_type=""][vc_column column_padding="no-extra-padding" column_padding_position="all" background_color_opacity="1″ background_hover_color_opacity="1″ column_link_target="_self" column_shadow="none" column_border_radius="none" width="1/1″ tablet_width_inherit="default" tablet_text_alignment="default" phone_text_alignment="default" column_border_width="none" column_border_style="solid" bg_image_animation="none"][vc_column_text max_width="640″]
| | |
| --- | --- |
| Weight | 2 lbs |
| Water Capacity | 14 oz |
| Dimensions | 4 x 4 x 10 in |
| Charger | 100-240 AC 50/60 Hz |
| Bottle Battery | Lithium Ion 7.4V 1.8 Amp-hr |
[/vc_column_text][/vc_column][/vc_row][vc_row type="in_container" full_screen_row_position="middle" scene_position="center" text_color="dark" text_align="left" disable_element="yes" overlay_strength="0.3″ shape_divider_position="bottom" bg_image_animation="none" shape_type=""][vc_column column_padding="no-extra-padding" column_padding_position="all" background_color_opacity="1″ background_hover_color_opacity="1″ column_link_target="_self" column_shadow="none" column_border_radius="none" width="1/4″ tablet_width_inherit="default" tablet_text_alignment="default" phone_text_alignment="default" column_border_width="none" column_border_style="solid" bg_image_animation="none"][image_with_animation image_url="6786″ alignment="center" animation="Fade In" border_radius="none" box_shadow="none" max_width="50%"][/vc_column][vc_column column_padding="no-extra-padding" column_padding_position="all" background_color_opacity="1″ background_hover_color_opacity="1″ column_link_target="_self" column_shadow="none" column_border_radius="none" width="3/4″ tablet_width_inherit="default" tablet_text_alignment="default" phone_text_alignment="default" column_border_width="none" column_border_style="solid" bg_image_animation="none"][image_with_animation image_url="6526″ alignment="center" animation="Fade In" border_radius="none" box_shadow="none" max_width="100%"][/vc_column][/vc_row][vc_row type="in_container" full_screen_row_position="middle" scene_position="center" text_color="dark" text_align="left" disable_element="yes" overlay_strength="0.3″ shape_divider_position="bottom" bg_image_animation="none" shape_type=""][vc_column column_padding="no-extra-padding" column_padding_position="left-right" background_color_opacity="1″ background_hover_color_opacity="1″ column_link_target="_self" column_shadow="none" column_border_radius="none" width="1/4″ tablet_width_inherit="default" tablet_text_alignment="default" phone_text_alignment="default" column_border_width="none" column_border_style="solid" bg_image_animation="none"][image_with_animation image_url="6786″ alignment="center" animation="Fade In" border_radius="none" box_shadow="none" max_width="50%"][/vc_column][vc_column column_padding="no-extra-padding" column_padding_position="all" background_color_opacity="1″ background_hover_color_opacity="1″ column_link_target="_self" column_shadow="none" column_border_radius="none" width="3/4″ tablet_width_inherit="default" tablet_text_alignment="default" phone_text_alignment="default" column_border_width="none" column_border_style="solid" bg_image_animation="none"][image_with_animation image_url="6526″ alignment="center" animation="Fade In" border_radius="none" box_shadow="none" max_width="100%"][/vc_column][/vc_row]